CU Boulder graduate proves education unlocks possibilities, despite the most meager start
Thursday, Friday, Saturday, Sunday.
Four days of holiday break and every campus cafeteria was closed. It was Thanksgiving 1985, and Tandean Rustandy had $5 to his name.
He had nowhere to go for the holiday. CU Boulder's dorms were still open, which meant he could relax over the long weekend, albeit alone, in his room at Libby Hall. So he took that $5, walked to a grocery store, bought a raw chicken and a bag of rice, and cooked four days of meals with a rice cooker in his dorm room.
He felt lucky.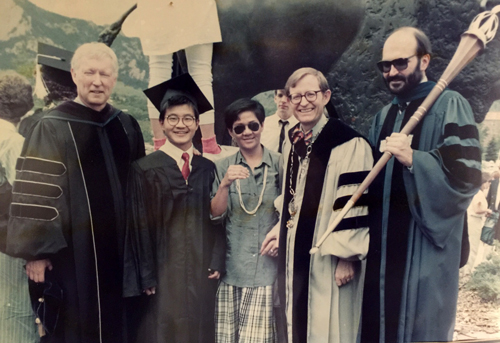 Tandean was an undergraduate business student from Indonesia and the first in his family to get a college education. His working-class parents, with only middle-school educations, helped pay for it by selling their house back in their village. He worked three jobs in Boulder—one of them washing pots and pans in Nichols Hall for $3.25 an hour—and only got haircuts twice a year. He borrowed money from his college roommate to pay his last tuition bill. But he felt lucky to have the American college experience, rooting for the Colorado Buffs football team and going to the popular college bar Tulagi with friends.
"One of the best times of my life is in Boulder. The best. The best," Tandean says.
When he graduated from CU in 1987, only his mother attended ceremonies because his parents could afford just one plane ticket to the United States. It was at his mother's urging, after all, that Tandean studied at CU in the first place.
"Education is everything," she would remind him.
Now Tandean is the one reminding CU Boulder students that education unlocks possibilities.
As the founder and chief executive officer of one of the world's most successful ceramic-tile manufacturing companies, Tandean supports the Leeds School of Business, both philanthropically and philosophically.
He has twice hosted groups of CU students in Jakarta through the Leeds School's Global Initiatives program, where undergraduates learn about business and culture in a global marketplace while supporting the local community, a mission close to Tandean's heart. He invests in the university to lead the charge in entrepreneurship education. He mentors students about giving their best, today in their academics and in the future as alumni.
"This school really means a lot to me. Who I am today is because of the very strong foundation I received at CU Boulder," says Tandean, who was honored in 2014 with a Leeds School alumni service award. "I share with the CU students that the quality of this school depends on you. As student, as an alum, you need to create something."