Giving amplifies a vibrant future for CU, Benson tells donors
Donors propel CU forward because they invest in a university that lifts local communities, Colorado and the world.
CU President Bruce Benson told donors at an April 28 Heritage Society luncheon that their generosity and passion are increasingly important partners in assuring CU transforms lives.
"Thank you for what you do for this university," Benson said. "It's a great university because of our people—all of our donors and friends who support CU."
Nearly 240 members of the Heritage Society—donors who commit to providing future gifts through their estates—gathered at the Denver Botanic Gardens to learn how their philanthropy seeds important pursuits like health care research, student-body diversity, scholarships, the expansion of online education and more.
CU welcomed 113 new Heritage Society members this year, increasing its membership to more than 1,300.
Doug and Mary Ann Looney—donors who support scholarships for student-athletes in men's basketball at CU Boulder—said they feel an obligation to give because CU has given them so much.
"We don't owe this place a lot. We owe it everything," Doug ('63) said, noting CU's role in many of their milestones: meeting each other in freshman English, getting married as seniors, his journalism degree and her education degree. "You start thinking about the significant things in your life. And CU was in on most of the major events."
Mary Ann ('63) said she's grateful for the opportunities CU still provides, like serving on boards and making new friends, and she sees philanthropy as a natural evolution in their relationship.
"CU is continuing to give to us," she said.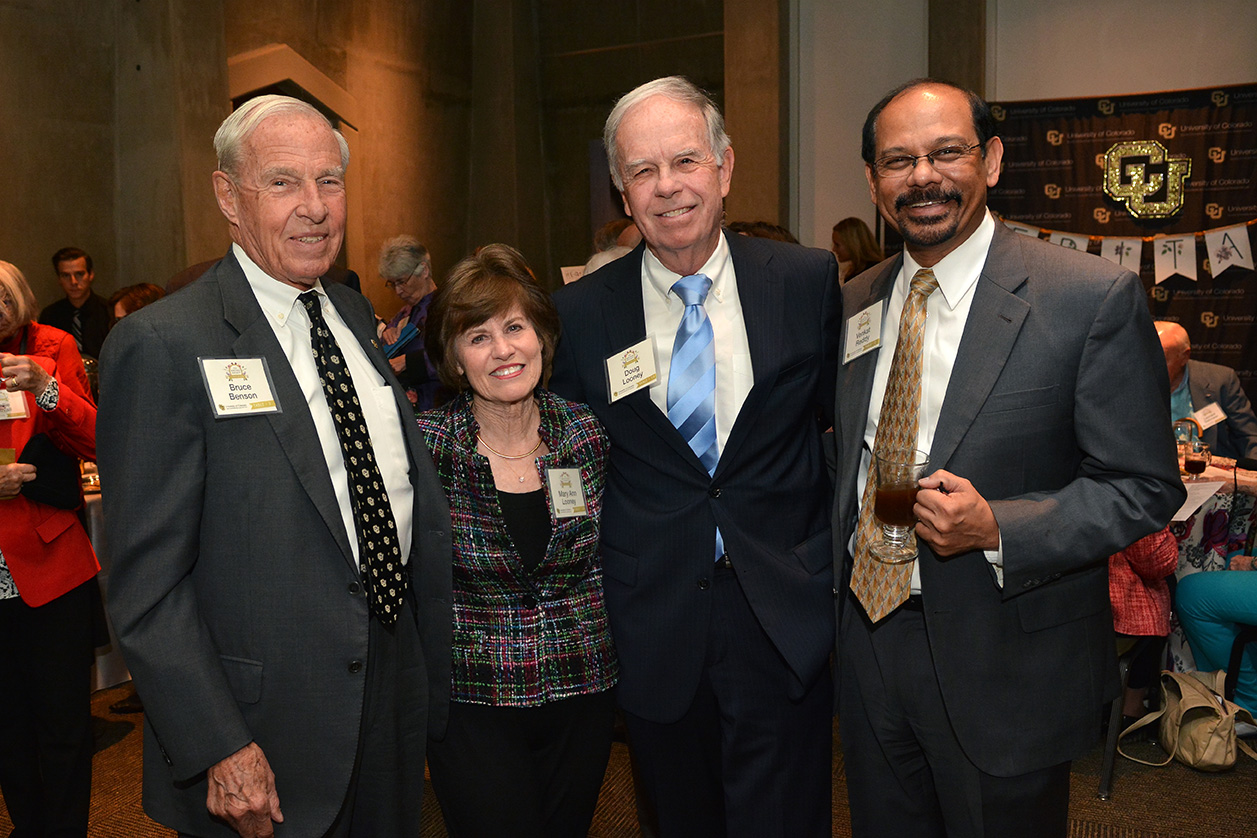 From left: CU President Bruce Benson, Mary Ann Looney, Doug Looney and UCCS Interim Chancellor Venkat Reddy
Johnnie Ray, vice president for Advancement, said CU's core purpose is to transform lives, and donors do that by investing through the university.
"Charitable donations are investments in greater societal returns," he said, "and investing in CU is an investment in the future of the state of Colorado."
The university stands to benefit from approximately $13 million in future gifts committed since January, in addition to $58 million from 2016. CU began keeping formal records of planned gifts that the university received in 1985; since then, nearly $150 million in estate gifts have benefitted university programs.
Donors have given $302 million in total private support to CU since July 1, the start of the fiscal year.
Future gifts provide one of CU's most important sources of philanthropy, allowing donors to identify the programs that are personally meaningful while structuring gifts that support their financial goals and the university.
Learn more about planning your giving with CU by calling 303-541-1229 or visiting cu.planmygift.org.