Set up and manage recurring gifts
When giving online, choose the fund you'd like to give to, enter your gift amount, and then check the box next to "Make this a recurring gift." You will then have the option to set how often you wish your gift to recur: Monthly, Quarterly or Annually.
Please note that the recurring gift option applies to all gifts in your Gift Basket, and cannot be set up on a fund-by-fund basis within a single donation. To make a separate one-time gift, or one with a different recurring schedule, you will need to complete them separately.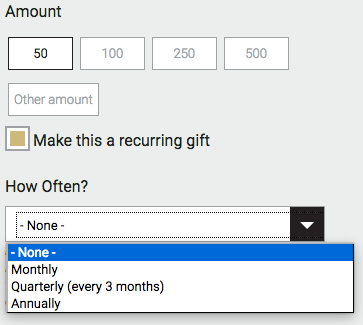 You can also set up a recurring gift over the phone by calling us at 303-541-1290. Recurring gifts continue in perpetuity until you request to cancel or change them. To cancel or change a recurring gift, please email gifts@cufund.org or call 303-541-1290.