Peggy Lore Endowed Scholarship Fund
To provide undergraduate scholarship awards for students who are leaders contributing to the CU Denver Asian American Pacific Islander (AAPI) community through campus and community organizations.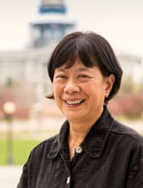 "As a daughter of Chinese immigrants and a first-generation college student, Peggy Lore understands what it feels like to be "rooted in two cultures," and she has experienced first-hand the obstacles many of our students face as they navigate the higher education.
Lore is known in the campus community for her knowledge and expertise on college climate and cultural issues that impact student success, retention and graduation. Through her work, Lore imparted onto countless students the skills needed to surmount the sometimes daunting challenge of completing college. As the Assistant Vice Chancellor of Student Success in the Division of Student Affairs, she helped to ensure services at CU Denver are welcoming and inclusive.
Peggy once noted, "Students have a lot of responsibilities in addition to going to school so sometimes I think if we don't encourage students to develop things other than their academics, that students will be missing an opportunity. To me, it's important for students to develop in a holistic way; benefitting from the full college experience." "
Pure endowments exist into perpetuity and are invested accordingly. Distributions pursuant to the CU Foundation's Spending Policy are available for the fund purpose.