CU Foundation fund reports are changing on May 30.
Here are the important details that fund managers should understand.
CU Advancement and the CU Foundation are moving to new fundraising technology platforms on May 30. If you are a fund manager or fiscal principal and you access the Foundation's Advancement Intelligence (AI) reports or you're responsible for your unit's philanthropic funds, read below for some changes that may impact you.
Starting May 30, you will see minor changes to reports that many of you use occasionally today. The information and how you retrieve it will remain the same. However, some reports' formats and fields may change, depending on how you use them.
If you have questions about this information, email accounting@cufund.org. Let us know if you use AI in a way that's not covered here and need additional information. We also encourage you to share this information with your colleagues who access CU Foundation reports to help inform our colleagues about this change.
Here are the highlights of what's changing and what's not:
Will speedtypes change? No. The speedtypes associated with funds will not change. They will remain the same and will be visible in reports.
Will I still have access to reports? Yes. AI reports will remain accessible through our May 30 launch date and after. But data in AI reports will not be updated from May 12 to May 30. This is a "freeze period" during which the Foundation and Advancement will be syncing data between its old and new systems. This data freeze is necessary to keep data in sync for our May 30 transition.
When will the data in reports be updated? Starting May 30, updated data will begin to flow into AI reports. However, because the Foundation will not process gifts into our old or new systems from May 12 to May 30, it will take time for funds' balances to get up to date, as gifts made during the freeze won't be processed until May 30. Getting through that backlog of gifts will take up to a couple weeks.
What is changing in reports? You'll notice in reports that the fund IDs will be different and follow a new format. These will now lead with "D-" and the numbers for the funds will be new. For instance, what was once 0430106 will be D-0034786. These new codes, which will be the primary identifiers of a fund, are from the new systems. The historical distribution and historical principal fund numbers will still be available if you need to reference them. However, if you only use speedtypes, nothing changes about how you identify funds.
For an example, see the screenshot below from the new annual distribution report that will be live on May 30. Other new reports may have similar information after launch on May 30.
Here is a key that shows how some information will stay the same and what will be different:
1 = The speedtype for the fund. This will not change.
2 = The distribution fund ID. This is an updated field with the new format.
3 = The principal fund ID. This is an updated field with the new format.
4 = The historical distribution code. This is the former fund ID.
5 = The historical principal code. This is the former fund ID.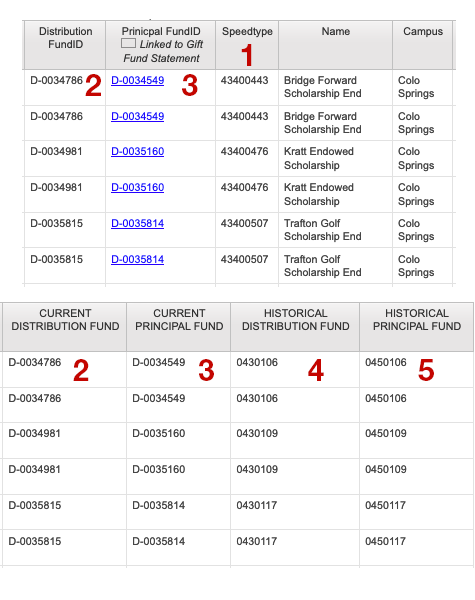 We will continue to communicate with you about this transition to new AI reports. Please email accounting@cufund.org if you have questions or would like to know more information about how these reports will change on May 30.