CU Denver Class Gift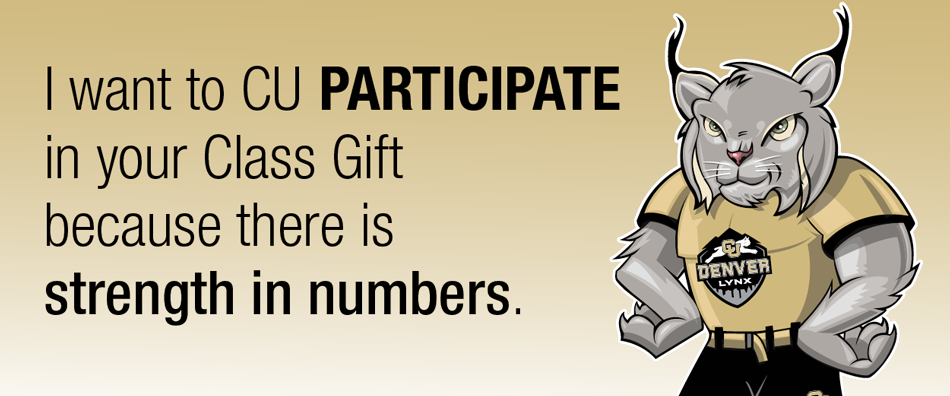 Congratulations! As a fellow graduate, I hope you are eagerly anticipating commencement. As a proud University of Colorado Denver student, I am excited to share an opportunity to start your legacy and honor your achievement.
I want to CU PARTICIPATE in your Class Gift, because there is strength in numbers. Join the graduating class in making your first gift to the Loving Lynx Emergency Fund. Do you think your gift won't make a difference? Think again. Your participation helps strengthen the value of your degree by keeping CU Denver strong and raising its visibility and ranking. Tuition you say? It doesn't begin to cover the facilities we've used, services we've benefited from and extracurricular activities we've enjoyed.
I want to CU ENGAGE in the first ever Class Gift, in order to commemorate both your graduation and the experiences you have had at CU Denver. Whether you can give $5, $20 or more, adopting the spirit of giving back is a great step toward becoming a lifelong member of the CU Denver Lynx family and staying connected to your alma mater. The goal of the Class Gift is not to raise an arbitrary sum of money, but rather to bring together as many graduates as we can to participate in giving.
I want to CU DONATE, and support your school or college, a favorite program, or a scholarship fund that will benefit deserving CU Denver students for generations to come.
The choice is yours. You have the power to support the next generation of Lynx. When we come together, we are CU Denver, we are Lynx, and we are truly a part of something big.
And don't forget to pick up your contribution cord! Email Natalie Kellett to arrange a pick-up time. Wear your cord during the commencement ceremony and join fellow CU Denver graduates in showing your CU pride!
Choose a fund to start giving back today: